Will YOU Become The Diamond Master?
Competition over, Diamond Master found!
King Oddball Ends The World update 1.1.0 includes a new game mode, Hall of Diamonds, where the player is tasked with earning a diamond in every level of the game.
10tons will reward the first iOS player who completes the Hall of Diamonds (earns 131 diamonds) with a real life diamond!
To participate, take a screenshot of the completed Hall of Diamonds screen and send it to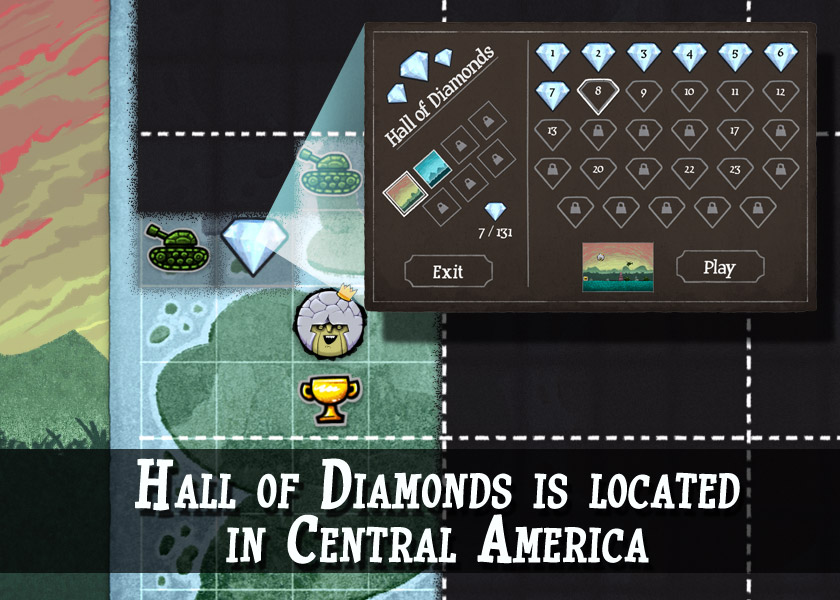 It's a tough challenge. The competition is based on skill and persistency. It's not a lottery, sweepstakes, or drawing of chance.
The competition is global, but participants must be at least 18 years old. Check full rules and disclaimers below.
Rules and disclaimers:
1. Only one person may win the competition.
2. Only the iOS (iPhone, iPod touch, iPad) version of the game may be used for participation.
3. To participate, a screenshot of completed Hall of Diamonds screen must be e-mailed to
4. The first player whom 10tons receives a valid screenshot from and responds to an e-mail from 10tons will be declared the winner.
5. The winner will be contacted via e-mail. The winner must respond within 48 hours of the contact or the next valid submission will be picked as the winner.
6. 10tons may disqualify fake entries.
7. If delivering the diamond turns out to be impractical due to unforeseen reasons, 10tons may change the prize to something of similar value (roughly 300 USD).
8. If the delivery of prize is blocked by unforeseen reasons, another winner may be chosen.
9. The recipient will be responsible for any applicable import duties, taxes, and other fees upon reception.
10. The competition will end on the 1st of July, 2013, even if no winner is declared.
11. Participants must be at least 18 years old.
12. 10tons reserves the right to correct the rules and disclaimers if necessary.